Pineywoods Unlimited Taxidermy
and
Deer Processing
Route 2, Box 135 1/4
Gladewater, Texas 75647

Phone: (903) 295-1222
e-mail
rifleling@aol.com



For the one that didn't get away!
At Pineywoods Unlimited Taxidermy and Deer Processing our top priorities are customer satisfaction and a reasonable turn-around time. We use only the highest quality mannequins and modern supplies available. We fully tan our skins to ensure our customers the best quality, most attractive and life-like mount possible. Our individualized care and special attention to every detail insures you the best mount available. As the owner of Pineywoods, I am also an avid hunter and fisherman so I know just how important your trophy is to you. Another major advantage for you by using our services is that highly trained professional butchers with many years of experience do our wildlife processing.
Come by and see the difference our quality service can make for you.
Thanks,
Russell & Melisa Harris
Cape Care Tips.
Ensure that you, or whoever is going to cape your trophy, is knowledgeable about the task. Every year I get a few 'short' capes. This causes extra work for the Taxidermist and results in a mount that is less than it could be. This mistake, made in the field, is completely preventable, but it happens again and again. Take the responsibility for knowing the proper cut lines and make sure it's done right. If, after all your efforts, you still end up with a 'bad' cape, stock capes are available, but it will be an extra expense.
Care of the cape prior to delivery to a taxidermist is also crucial. Warm and/or wet weather can cause Spoilage quickly resulting in hair slippage. To minimize this possibility, remove as much meat/fat as you can and cool the cape as soon as possible. If this is not possible, as is often the case on an early hunt, then get the cape to your taxidermist within a day (two at the most). Also keep the cape as clean and dry as possible. As a last resort, application of non-iodized salt may extend the time you have, but only if the cape is totally removed from the skull. Otherwise, only the portion of the cape that gets salted will be preserved, doing very little for the head or 'face'part of the cape.
Photo Gallery
Well Pilgrim come on in and take a look around.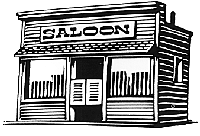 Click on the swinging doors to enter.